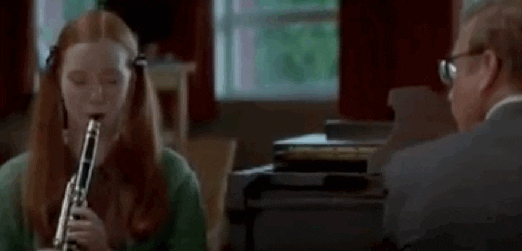 Have you ever liked your teacher? Have you ever understood what he or she is going through?


The movie Mr. Holland's Opus is about one teacher who has never planned a career in 'lighting up' young minds, in fact, he was thinking more of a career with more fame and fortune.
Richard Dreyfuss plays the composer Glenn Holland who has big dreams of being a musical composer.
But then, as they say, life happened (translation, marriage) and he was forced to take up a job as a music teacher at a local high school.
The 'teaching gig' as Glenn called it was only to be a short stop. And boy was he wrong.

He hated teaching at first.
Day in and day out all he had were blank stares and failed test scores.
Amidst his frustration he remembered being a student and how his mind was elsewhere.
It was ironic that even with the tables turned his mind was still somewhere else.
The problem was so acute that Principal Helen Jacobs (Olympia Dukakis) said she has never seen a teacher surpassed a student's zeal of getting the hell out of the school.
To set Glenn straight, Principal Jacobs reminded him of another job a teacher has to do other than give students information – you are also here, she said, to give them a compass.
From then on Glenn renewed his approached, and it is something that should be learned by any communicator: know your audience.


What do children listen to?
And from there he drew out the passions of the children, at the same time teaching the concepts of music.
On the side, he became an adviser and a friend to all that came into his room.
He made every effort to connect.


Glenn Holland became an institution teaching many students not only musical notes but to how to live.
Yet his dream of being a composer remained, and by measuring his life through it he thought himself a failure.
In a send-off party his notion of failure was corrected by a former student now State governor.
Look around the auditorium she said, you have touched the lives of all here present. You are not a failure.


The auditorium scene was my favorite as it showed some consolation, or more aptly put, corrected the notion of the character that he lead a failed existence.
Mr. Holland's Opus had my attention all the way.
It was a great movie and a great cast especially its lead Richard Dreyfuss who was doing one of his best performances ever.
Watching the movie made me miss school but honestly not music class.
I was never liked singing in front of class.



Furthermore, the movie also made me think about teachers and wished I could have been friendlier, or more to the point, obedient.
I never thought I'd get to miss those guys.
It never crossed my mind to see what they are going through.
All I though was that they wanted to torture me.


Lastly, the movie got me into thinking mode as to what fame is. What really is the fixation with fame? Is it money or is it about having an effect on people, being remembered?
Are you meant something to somebody? Have you affected people's lives?
I believe that the answer is all about affecting people, whether those fame seekers admit it or not. But to the question of much effect I've made, as it happened to Glenn Holland, those questions are not mine to answer.
And it won't be answered for many years. . .