Although I don't full picture the engineering significance of what makes for good steel, the allegation is not surprising.
Over the last 12 years, buildings have been erected in the country using a weaker type of steel bars, and manufacturers and structural engineers have been hiding this fact from the public, a group of public safety advocates said on Thursday.
Inquirer, 2018
If preparation against fire can be overlooked what more for earthquake?
There were no "proper fire exits in the building," IOHSAD and other labor advocates found out. (Kentex factory fire)
Manila Times, 2015
An initial investigation of 23 establishments surrounding the ill-fated Kentex factory in Valenzuela City also showed violations of the country's fire code, President Benigno Aquino III revealed on Monday, June 1.
Rappler, 2015
"Dubbed as the worst fire in Philippine history, which claimed many young lives and several others, the ash and soot of what remained of the structure once known as the Ozone Dance Club led to questions and subsequent investigations of its structural integrity and fire safety measures," read the ruling.
Philippine Star, 2014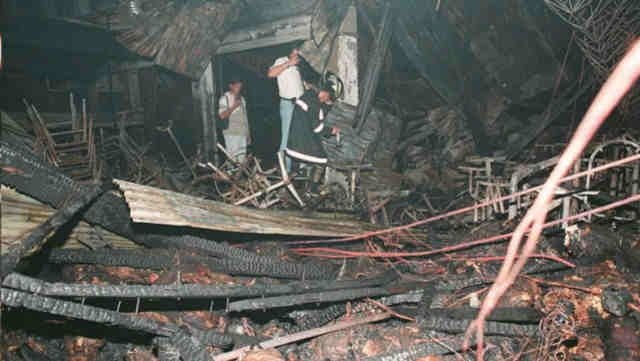 Ozone Disco - Rappler and Photo by AFP
A 38-storey building in Ortigas complex in Pasig has failed to comply with fire safety requirement imposed by the Fire Code of the Philippines, a top official of the Bureau of Fire Protection (BFP) said yesterday.
Philippine Star, 2002